Tofu N' Roots
The bland, unexciting avocado BLT burger is in the past. It is SO in the past. I can't even remember it, that's how far out of my memory it's been pushed. You know why I'm totally over it? Because these were so darn GOOD.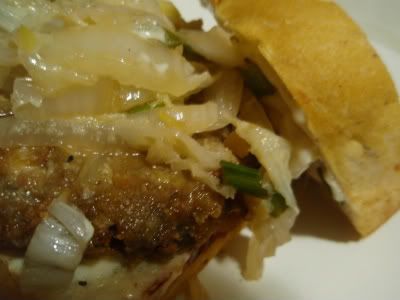 This was another burger recipe from
Just the Food
and boy did it perform. As the recipe says, these are pretty mild and sweet, don't expect anything bold and spicy here. On the other hand, they're absolutely delicious, don't weigh you down, and hold their shape like nothing else. To top it all off, the recipe makes about 3 million, so I was able to pack away more than a dozen burgers in the freezer for future consumption.
I topped these off with a napa cabbage slaw which was based on the one I found
here
I simplified mine a bit though, combining about two tablespoons of peanut oil with some fresh-minced ginger and then adding a handful of the sliced napa cabbage. Once the cabbage had wilted down, I added a couple tablespoons worth of chopped scallions, a generous squeeze of honey, and a couple teaspoons each of honey, shoyu, and rice vinegar.
I had this burger on bread, and set each slice up with some Nayo. The slaw went on top of the burger, and this was absolute perfection, I could've eaten three. (although I held myself back) The one thing I would say, is that these are definitely not "ketchup and mustard" burgers. The condiments would totally overpower the mild patty and clash with its sweetness. I think any sort of mild wilted green would go great on top though...
Selah.