Simple Crusty Bread and Straw Mushroom Pasta
Hey I'm getting the hang of this baking thing!
I'll be honest...the entire purpose behind making this was that I'm having a HORRIBLE week, and needed to punch something..err...knead, I meant knead.
I found this recipe at the
New York Times Website
, and they weren't kidding when they call it SIMPLE crusty bread. This has 3 ingredients...that's it. Even I have a hard time screwing something up with three ingredients. I got three loaves out of this one recipe, so I'm going to have a lot of carbs with my meals over the next few days...which is fine by me.
To back up the bread...I made something I've been thinking about for awhile...Straw Mushroom "pasta".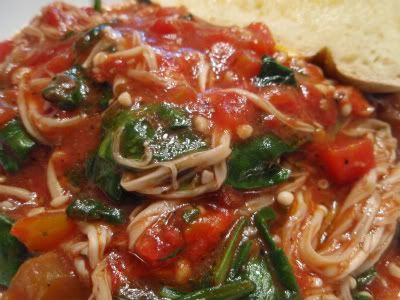 I started things off by sauteing a couple cloves of minced garlic in olive oil. I added the straw mushrooms next (cut off the large stem and separate them as best you can) and once those were starting to soften up, I added about half a cup of canned organic tomato sauce along with dry oregano, cracked pepper, and a couple handfuls of baby spinach. Everything was stirred together until the sauce was starting to bubble, and then served up with some of the fresh baked bread.
This wasn't bad...but it still tasted like I was trying to do something Italian to mushrooms. It was a cool idea, but not quite right, something about it just seemed "off" to me...and I think it was the mushroomy-ness. A nice thought though....and it looked awful pretty.
Selah.