Mushroom Curry
This is a recipe I'd been wanting to try from
Melbedggood
since we're always up for trying new mushroom recipes over here. I added some chopped scallions to the recipe for a bit of green, and used a full teaspoon of hot Asian chili paste.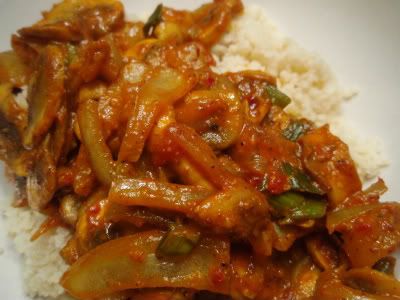 I'm pretty sure I also doubled the tomato paste, although I wasn't really measuring as I squeezed it out of the tube. (side note: tomato paste in a tube is my new favorite thing, ever). Thanks to my alterations, this was VERY hot, but also deliciously tomatoey, through which I thought the heat was fine. Then again my opinion of "ok" heat is about 6 levels above most people's, so I wouldn't take my word on it if I were you.
All the same, props to Melbedggood for a great recipe...which coincidentally, was delicious over couscous. Go figure.
Selah.