Kimchee, Potato-Edamame Samosas with Coconut Mint Chutney, and Lo Mein
I'd been wanting to try out the Quick Kimchee from
Vegetarian Planet
for awhile now, and I finally got around to it this week. Granted, it's been awhile since I've had real kimchee, but I'm pretty sure this tasted nothing like the real thing. Or looked anything like the real thing...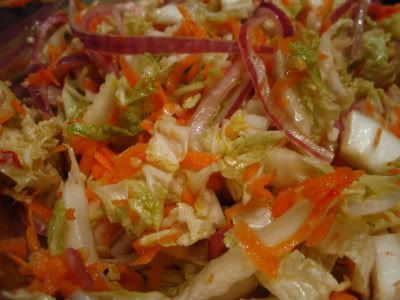 This actually reminded me a lot of the hot n sour slaw from the same cookbook, both of which are good, I'm just not entirely sure what the difference is. All the same it tastes good (and very tangy thanks to my liberal dosing with the rice vinegar)...I'm just not sure I can call it kimchee.
The second part of dinner was the Potato-Edamame Samosas with Coconut-Mint Chutney from VwaV. I was fairly certain I had potatoes....after making the dough, I discovered all I had was a solitary sweet potato. Fortunately, it was a pretty big sweet potato, and with the other ingredients for the filling, worked out great. I'm actually glad I didn't have any white potatoes, it probably wouldn't have been as good. I was also shocked at how easy these were to put together, especially considering how many times I've failed miserably at trying to form ravioli.
The true star of this though, was without a doubt, the chutney. The chutney was DELICIOUS. Frankly I would've eaten clods of dirt dipped in the chutney and enjoyed them. I may play around with the samosas a bit, but I know I'll be making this chutney again, that's for sure.
Last but not least, I'd picked up some pan fried noodles at the Asian Market yesterday, and tossed together a quick lo mein style dish to go along with the meal.
The lo mein started off with some peanut oil to cook the minced garlic, onion, carrots and button mushrooms. After about 7 minutes, the noodles went in, along with about 1/3 cup of water, 1/4 cup shoyu, and a generous drizzle of dark sesame oil and sezchuan oil. (I can't spell that for the life of me) This was simple and delicious...and tasted just like takeout....a factor I'll chalk up to the store bought noodles...
Selah.