Tempeh Reuben
Since I'm back on 3-11s 4 days a week, I've been making myself lunch and eating a conglomeration of fruit and leftovers for dinner while at work. I'm really unhappy with it, but there isn't much choice, so today, I'm sharing some lunch: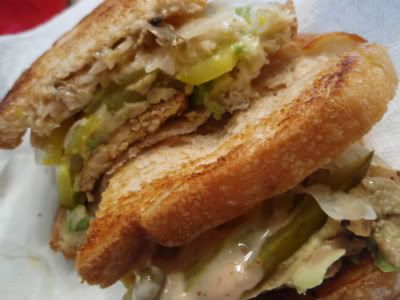 I made the tempeh reuben from VwaV with a couple minor changes. The instructions say to grill the tempeh but I haven't got a grill pan, and it's snowing outside so I'm not dragging the hibachi onto the balcony. Instead, I cooked up the tempeh in some peanut oil tempeh bacon style, and skipped buttering up the bread, toasting it in the remainder of the peanut oil instead. Yum!
I wasn't able to marinate this for quite a full hour due to time constraints, but it was still awful good. Then again, with all the sauerkraut, avocado, and homemade thousand island, I barely knew the tempeh was in there. I'd have to say the avocado was my favorite part, and I don't even think that's a traditional reuben ingredient. Then again, I hate swiss cheese (traditional) wouldn't come within a mile of the traditional corned beef, and while I can do the kraut...it certainly wasn't my favorite ingredient. So yes, this sandwich is delicious, and thank GD I never had to eat the original.
Selah.