Un-Crabcakes and Southwestern Corn Pudding
This was a Southern themed dinner, albeit from different sides of the south.
Representing the Bayou, we have
Vegan Dad's Crispy Cajun Crabcakes
Mine looked nothing like his, but they tasted pretty darn good...I suppose I just don't have his skill as far as beautiful food goes.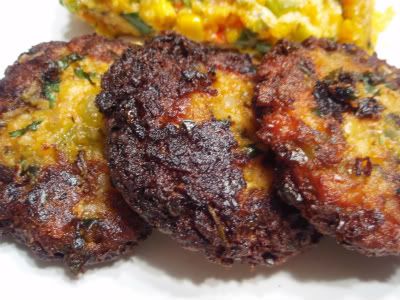 Mine were also more yellow then red, which makes perfect sense considering the largest flavor component was chickpeas. Then again, my mix was pretty red before cooking. I also doubled the hot sauce, which if anything, should've made mine even redder than Vegan Dad's. But hey...they tasted great, so who cares.
We dipped these in ketchup, which was yummy, they were bit dry eaten as is. I also got 9 out of the mix...not 12, and mine looked significantly smaller than his, I can't explain it. But again...we really enjoyed them...so really, who sweats the small stuff?
I also made the Southwestern Corn Pudding from V'con, which I'd been eying. I expected it to be like a very moist cornbread, which was inaccurate...it was so much better!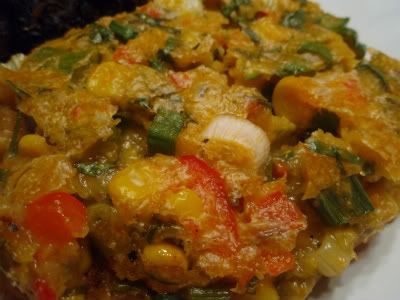 I replaced the Jalapenos with a Manzana chili simple because that's what I had. As a result, this had a serious kick, which is fine by me, it was so creamy overall the kick was welcome. This reminded me of creamed corn...but good. I always thought creamed corn was nasty, but when I tried this yesterday, the first thought that came to my mind was "creamed corn...YUM" Now maybe it's because I haven't had creamed corn in years, and don't actually remember what it tastes like anymore, but regardless, this was creamy, corny, and SPICY. Yum.
Selah.