Corn-Edamame Salad, Vegetable Sushi…and desert!!!
It was perfect out yesterday, so I felt the need to compliment the weather with a perfect summer meal (enjoyed out on the balcony with some iced tea of course). We started things off with the corn-edamame salad from V'con. This took less than 5 minutes to make, and was quite yummy. It definitely gets thumbs up as a delicious and refreshing snack food for the summer season. (ok fine…I'll probably eat it all winter long too)
So my friend Greg just got back from a trip to Korea and Japan, and brought back the MOST AWESOME thing I've ever seen. He went to Disneyworld in Japan, and brought back this:
Yup, that's right; you're looking at Mickey and Mini themed seaweed cut-outs. How COOL is that?
Since I had the awesome seaweed, I of course had to make sushi. As it turned out, I couldn't wrap the rolls in the Disney-themed seaweed, but we could certainly decorate!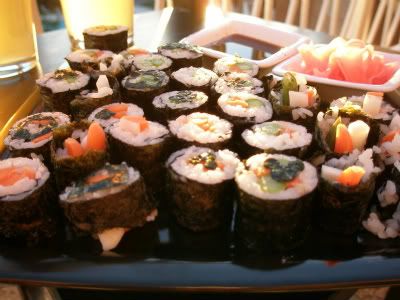 The rolls were filled with carrot, asparagus, and home-pickled daikon. If you've never tried pickling your own daikon, you should, because it's beyond simple. I sliced the daikon root into thin rounds, and then covered those with a combination of distilled vinegar, sugar and water, and left them in the fridge overnight. That's it. The rolls were then decorated with the seaweed cut-outs, and served up with pickled ginger and tamari.
The leftover sushi filling made it to the table as well, topped with a handful of disney cut-outs, black sesame seeds, and the V'con sesame dressing recipe.
And last but not least…desert. I'll be honest…it's not a looker, but boy did it taste good! After watching Take-Home Chef yesterday, I decided that I MUST make Curtis Stone's blueberry cakes. However, when I went over to the website for the recipe, I couldn't seem to find it. I paid close attention to his directions on the show and attempted to emulate. I must have gone wrong somewhere, because mine looked NOTHING like his…but I can't imagine his tasting much better, cause these were VERY yummy. I won't bother with the cake recipe, since it obviously needs work, but I can tell you what went into our sauce. (The food you can actually see in the picture)
Blueberry Sauce

Ingredients

Couple handfuls fresh blueberries

½ cup natural cane sugar

¼ cup water

Splash vanilla extract

Splash lemon juice

Orange zest



Instructions

1.Heat a skillet on medium, and throw in the blueberries and sugar. Stir for a minute.

2. Add water, vanilla, lemon juice, and zest. Simmer until it forms a thick purple sauce and taste.

3.Pour over absolutely ANYTHING!
Selah.