Pasta Italiano..sort of
On our way to Chef's the other day (A HUGE kitchen supply store where I could liquidate my bank account in minutes if not chaperoned) I noticed a building signed "Connecticut Natural Foods Market" and being well...ME, I was intrigued. As it turned out, the store itself wasn't terribly exciting, but we did find one treasure. For under three bucks, we picked up a huge container of fresh sun dried tomatoes, where the only ingredient was...TOMATOES. I can't tell you how happy that makes me, and they smelled delicious. I had to have them.
Last night I decided to use my find, putting together a quick and easy dish that allowed the tomatoes to star: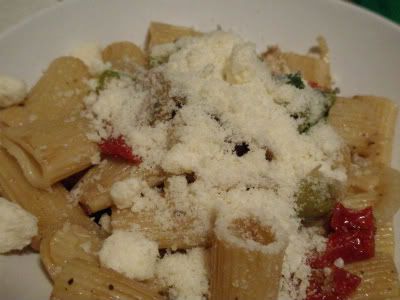 The general theory with this dish was simply to sautee all the veggies while the pasta was boiling (I used a rigatoni) so that in twenty minutes or less, you have a meal.

Ingredients
sun dried tomatoes, chopped
green olives with pimentos, roughly chopped
one onion, halved then sliced
2 tbsp. minced garlic
4 sliced button mushrooms
Generous handful mustard greens, de-stemmed
Splash balsamic vinegar
olive oil
sea salt and ground pepper
chili flakes
dried basil; optional

I started by sautéing the onions, garlic, and mushroom with pepper and chili flakes. I then switched those out for the tomatoes and mustard greens, which wilted down even quicker than I'd expected.
The final step was simply to throw everything in with the pasta (reserve a little cooking liquid when you drain the noodles, it'll plump up the tomatoes) and add a generous splash of balsamic vinegar and a grind of sea salt. I also tossed in a handful of dried basil, although it's not necessary.
It was all topped off with some "veggie Cheese topping" (Not Vegan, but it eliminates animal rennin...and unfortunately isn't quite close enough to real Parm for my liking) and was gobbled up with some fresh made iced tea. The one conclusion we came to was that it would have gone great with some marinated artichoke...something to keep in mind for next time. Arugula as the green would've been great too, we just happened to have mustard greens to finish.
Easy Peasy...told you!
Selah.