Vegan Ginger Cookies
I don't bake...I always feel the need to mess with recipes, and it almost never goes well when it comes to deserts. I've always made the dinner, and in turn my counterpart would be responsible for the desert. So why on earth did I feel like making cookies last night? I'm not sure, but they're REALLY REALLY GOOD.
I'd set my heart on ginger cookies of some variety, since it had never occurred to me that they get their color from molasses, an ingredient I didn't have. Google Advanced Search to the rescue!!! I found a recipe that was Vegan and molasses free in under five minutes. The only issue was that it called for applesauce, and I didn't have that either. But hey...like I said, I always improvise anyway.
Well this time..it worked!!!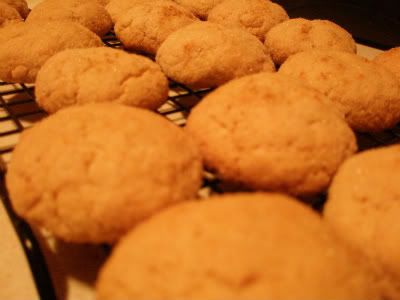 The original recipe can be found over at
Myrecipes.com
. I didn't have the crystallized ginger either, so I replaced that with some sliced up fresh ginger. I replaced the applesauce with about a cup of soy milk, and that was it. Everything else was done exactly according to the instructions, and they're probably the most successful baked good I've ever made. I highly recommend these, if I can make them, anyone can!
Selah.