Orzo salad and improved mushroom burgers
It's been gorgeous and summery this week, so I felt like cooking to match the weather. Warm weather makes me think pasta salads and burgers, so that's what I did...although I'll be honest, I didn't do any grilling.
The Mediterranean Orzo recipe came from
Claire's Classic American Vegetarian Cooking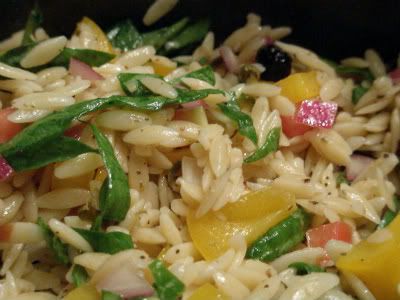 I always thought I hated pasta salad growing up..turns out I just hate things covered in Mayo, I've got no issue with cold pasta tossed with fresh veggies, olive oil, and red wine vinegar...which is the way it oughtta be done anyhow. The colors and the flavor on this were perfect, and we almost ate our way through a huge soup pot's worth tonight alone.
I also decided that I'd retry my mushroom burger recipe today, since I ran out of the first batch last week. I made a few small adjustments, and the verdict? Much better. They're way less chewy,the flavor is just as good if not better...and now they're 100% vegan. I know...you're welcome ;)> I'm going to copy the original recipe here, and note the changes made.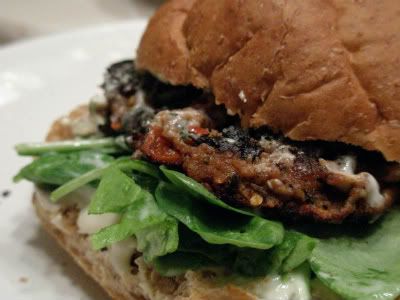 Ingredients
2 large button mushrooms; minced
1 portobella cap; minced
balsamic vinegar
1/4 cup nutritional yeast
2 tablespoons vegetable oil
1 cup vital wheat gluten
1 roasted red pepper; minced
1 cup bread crumbs
Heaping spoonful garlic
1 cup water
Salt
Pepper
Chili flakes
Cumin
Mesquite seasoning


Instructions
If you have a gas burner, drop a red pepper directly on it,and char, turning with tongs to cook each side. When done, put it in a bowl covered with saran wrap. After approx. 10 minutes, remove and pull of skin. Mince.
Sautée mushrooms and garlic in the oil, a generous splash of balsamic vinegar, mesquite seasoning, and salt until cooked through.
Pour cooked mushrooms into a bowl and combine with ALL the other ingredients. I did all the dry ones first, then added the water.
Mash everything together with hands, and then form balls. Flatten the balls into 1.5 inch thick patties, and fry in the oil, approx. 4-5 minutes on each side.
Selah.