Polenta Rounds and Pesto-y Pasta
I've had this "log" of polenta sitting in my pantry for a while now, and I finally felt up to the challenge of using it. I had one shared ingredient for last night's dinner, which was the broccoli rabe. I wilted down the rabe in some balsamic, with a sprinkle of chili flakes, salt and pepper. Meanwhile, I cut the polenta into 1 inch rounds, set each one up with a pat of butter and generous dosage of Parm..and cooked it in the oven at 375 for twenty minutes.
Once done, I topped the rounds with half of the rabe and some more parm to melt on top. I considered an extra drizzle of balsamic, but figured that might be pushing it a bit.
The pasta recipe was an idea that I got off of Rachael Ray and then changed around to suit my own purposes. I saw a 30 minute meals episode recently where Rachael made pasta with a tarragon/hazlenut pesto and swiss chard, served up with a side of sausages. I had some leftover basil pesto in the freezer I wanted to use, and I attempted to get the swiss chard. Not surprisingly, since I needed it, the supermarket wasn't stocking any this week. I decided to go with the broccoli rabe as a backup leafy green, which worked out fine. I also decided I wanted to put the "sausage" in the pasta, instead of serving them up on the side.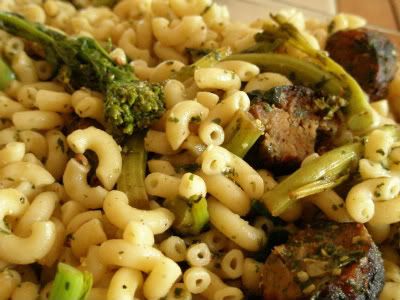 I used
Vegan Dad's
recipe for breakfast sausages, replacing the maple syrup with honey barbecue sauce for a more savory (and less breakfasty) flavor. The sausage flavor was great, but they were a bit soft on the inside, I think because I didn't steam them quite as long as I should have.
Overall this was good, the only change I'd make is using either twice as much pesto or half as much pasta as I did, I think you really need to coat the pasta, and I didn't have enough pesto on hand to do that...
Selah.