Vegetable Lo Mein
I got some lo mein noodles at the co-op in Vermont (OK, technically it's in NH, but just barely) and they were begging to become a yummy asian meal.
Unfortunately these noodles aren't Vegan, but everything else is, and I'm sure you could make lo mein with whatever pasta you choose.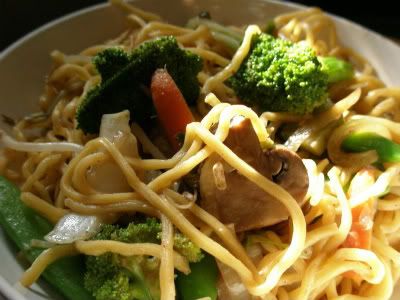 Obviously this recipe is great because you can make it with whatever veggies and spices you want, but the recipe I used today follows:

Ingredients
1 bag lo mein noodles
couple leaves napa cabbage
handful sliced button mushrooms
1 crown brocolli, sliced
handful carrots julliened
1 yellow onion, sliced into half rings
handful sugar snap peas
handful mung bean sprouts
1 lg. scallion, sliced at an angle
approx. half cup tamari
1/4 cup mirin
splash hot chili sauce
dash 5 spice powder
dash dried ginger
2 tbsp. peanut oil

Directions
1.Bring a pot of water to a boil, and cook noodles according to directions.
2. Pour peanut oil into a wok, and bring to medium heat. Add vegetables according to cooking time. I started with carrots, followed by onions and garlic, and broccoli...to which I added the mirin. Then came mushrooms, cabbage, bean sprouts, sugar snap peas, and finally, the scallion.
3. Once the vegetables are looking pretty close, add spices, tamari, and chili sauce. Drain the noodles and add to the wok.
4. Mix all ingredients together, and cook for an addition 2-5 minutes before serving.
5. Enjoy!!!
Selah