Chinese Green Beans, Saffron Rice, and a Blackberry Crumble
First, an apology. I'm having serious computer problems, and because my laptop has been un-usable, I've built up a serious backlog of food. To fix it, I'm going to try and combine several dishes into a couple entries and get the one that follows this up as quick as possible. In the meantime I'm using a different computer, and I'm hoping to soon replace the laptop with a Mac.
We still had green beans from last week's farmer's market in the fridge, and I've been thinking about the ones on cheap Chinese buffets forever. Even before I was vegetarian the green beans were always my favorite selection at the buffet, and I could never figure out exactly what they did to make them so different. Tonight I used the always magical Google to find the recipe for this green treat, and came up with these: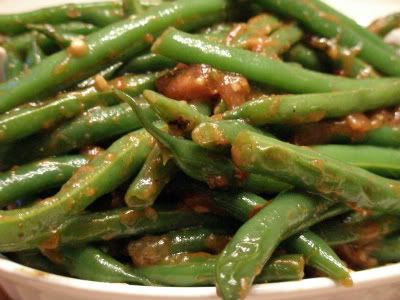 The recipe came from
here
and the only change I made was substituting powdered ginger for the root, since I didn't have any at the time. I actually think the powdered version made these more like the restaurant variety, although I'm looking forward to trying them as they're meant to be done.
Saffron rice is something I make fairly often, more because I like the yellow color than anything else. Rather than the threads, I use powdered yellow saffron that I purchased at the Istanbul Spice Bazaar when I was there. Although it's getting a bit aged now, the stuff still smells and tastes amazing, so I'm still using it. I don't want to run out though…because once I do I'll have to buy an airline ticket back to Turkey ;)
The trick to this is to boil the saffron WITH the water, before adding the rice. This time I used a veggie bullion cube along with about a teaspoon of saffron powder. Once the liquid boils, I add the rice, bring it back to a boil, and then down to a simmer and cover until done.
Last but not least, was dessert. A while back, we discovered a whole bunch of blackberry bushes lining the side of a nearby parking lot. We decided to check them out again today, and see how many were ripe. Upon arriving we realized we'd hit the mother load and started loading up the Tupperware we'd brought right away. First, I nearly took a face plant into the thorny bushes, and hit the ground hard. We were just about to leave when my boyfriend disturbed a formerly hidden bee hive, and they came out on the attack. Luckily he escaped with just one sting…it could have been a lot worse. That said…we got LOTS of berries, and I decided I was making dessert.
I was going to make a pie, but that hasn't worked out too well in the past, and when I saw the recipe for a blackberry crumble, I knew that was what I was after. (It's much simpler than attempting a pie crust) The recipe I used can be found
here
, and I'm sure you could replace the butter in the topping with Earth Balance or something along those lines. Switching it out might even work better, since my topping was a bit dry. Overall it was quite good…was it worth the bee sting? I don't know, you'd have to ask my boyfriend.
Selah.