Butternut Squash Soup and a Stir Fry

Since it's been getting a bit chilly outside, I figured it was finally time to try out some butternut squash soup. I've never attempted a squash soup before, but I figured it couldn't be too difficult…if only I'd gotten my proportions right.
I'd picked out a pretty small butternut squash at the farmer's market, since I didn't want to make a ton of unsuccessful soup and throw it all out. In retrospect, I should've picked out a much larger one. Long story short: I used way too much broth and not enough squash…so this was good broth, but had none of the creamy texture I was going for.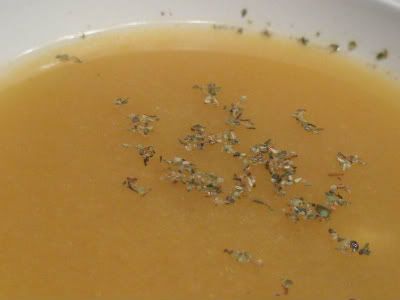 I'll type up the recipe as I made it, but I would recommend halving the liquid, if not quartering it, to make a thick and creamy soup.

Ingredients
1 butternut squash
6 cups vegetable broth
1 tsp. sage
2 tsp. liquid smoke
Garlic Salt
Salt and Pepper
Olive Oil

Directions

1. Preheat the oven to 420F. Split the squash in half the long way, and scoop out the seeds with a spoon. Sprinkle with salt and pepper and rub halves with olive oil. Bake squash for 1 hr.
2. Heat broth until boiling over high heat. Season with sage, garlic salt, and pepper.
3. Once you've allowed the squash to cool, scoop it into a blender. Pour one cup of the broth in, and blend until smooth.
4. Add the squash mixture to the remaining broth, and add the liquid smoke. Simmer for ten minutes, and then serve.

I added some Italian seasoning on top of this, but it really wasn't necessary, I just wanted some color.
I backed up the soup with a stir fry designed to finish off all the vegetables hanging out in the fridge. The coolest part was the awesome yellow cauliflower I picked up at the farmer's market, along with a dark purple bell pepper that sadly turned green when it cooked.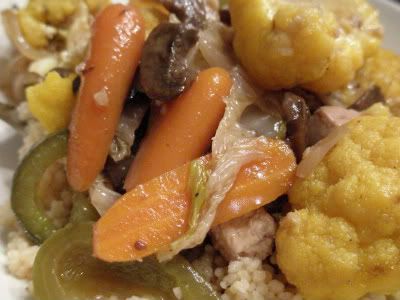 I used a bottled cherry dipping sauce for the flavoring, and watered it down to really coat all the veggies. Since cranberries make me think Moroccan food (I'm not really sure why) I served this up over couscous…and made enough of the grain to eat EVERYTHING over couscous this week…
Selah.