Kale!

Kale is a super food…it's so packed with nutrition that you can practically do a Popeye style flex after consuming just a few bites. So knowing all this, I must be eating it everyday, right? Weeelllll…maybe not everyday. I've had a lot of bad kale experiences…it's very chewy, it can be a little bitter, the huge curly leaves have a habit of taking over any dish to which they're added…kale scares me, and that's the honest truth.
All that aside, I was feeling brave this week, and so I decided to pick up a huge bushel of kale leaves, and see what I could do with them.
The result was AWESOME, and even my other half, who prefaced the meal by saying he HATES kale, invited me to make this recipe as often as I want.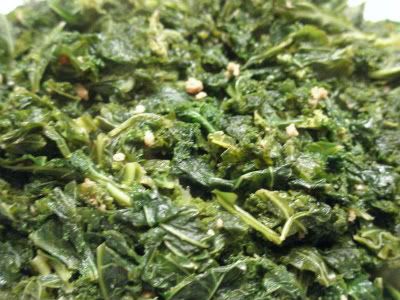 Ingredients
1 large bunch kale, washed, de-stemmed and chopped into ribbons
Organic Bac-Uns
Red Chili Flakes
Splash Umeboshi Plum Vinegar
Olive Oil
Salt and Pepper

Directions

1. Boil 4-5 cups of water in a large pot. Once the kale is prepared, add it to the boiling water and cover. Allow to cook for approx. 5-7 minutes, until the Kale is bright green and has wilted down significantly.
2. Heat oil in a large skillet/wok. Drain the kale into a colander, and then add it to the oil, tossing to coat.
3. Add a generous splash of the umeboshi vinegar . Sprinkle generously with the Bac-Uns, pepper, and chili flakes, but be stingy with the salt…there's plenty already in the umeboshi.
4. Stir the greens, and allow them to cook for another 5 minutes or so.
5. Serve!


I could've had bowls and bowls and bowls of this…for the first time in my life, I was bemoaning how much kale shrinks down, go figure.
Selah.