Quick Pasta Dinner

There's nothing simpler than a white wine sauce over pasta, and I was going for simple last night. We also had a bag of green beans and a red bell pepper that were about to kick the bucket, so I used those up as well.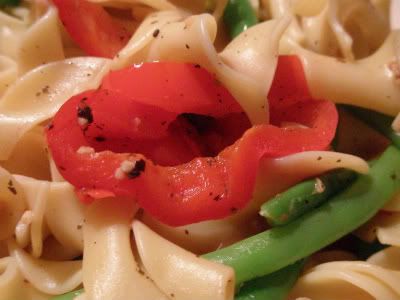 Ingredients
1 red bell pepper
3 cloves garlic, minced
Approx. ½ lb green beans, trimmed
Handful cherry tomatoes
2 cups extra wide egg noodles (or any veg. pasta)
1 cup dry white wine
Juice of 1 lemon
Dash red Chili Flakes
Salt and Pepper
EB or Margarine


Directions

1. Boil water for the pasta, and toss in the noodles.
2. Heat EB in a skillet over med/high heat, and add garlic. Stir until toasted and JUST starting to brown.
3. Slice the pepper into rings. Add the wine, red bell, chili flakes, salt and pepper to the skillet, and allow it to simmer for 5 minutes. Add the cherry tomatoes last, pressing down on each with spoon until it "pops".
4. When the noodles are almost al dente, add the green beans to the pot. Allow to cook for approx. 2 minutes and drain together.
5. Add lemon juice to the sauce, and cook for an additional 2 minutes before adding everything to the pasta and stirring. Feel free to garnish with some green…but it's not totally necessary.

I make variations of this all the time…if you've really got time to reduce the sauce. Some veg. stock mixed in with the wine is good as well…otherwise the salt, pepper, and lemon balance the flavors well enough.
Selah.