Chili Dogs and Beer-battered Seitan

Sometimes you just want some junk food...and tonight was one of those nights. First off I made some beer-battered simple seitan. I used the classic simple seitan recipe from V'con, and made a pretty standard beer batter with flour, baking soda, paprika, and beer. fried in some canola oil.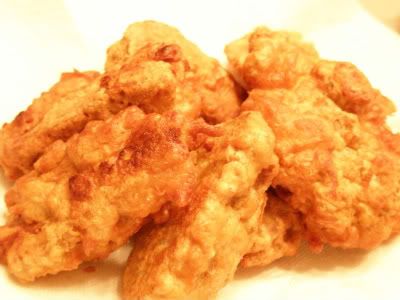 I set these up with some homemade honey-mustard (by which I mean I mixed mustard...with honey)and was somewhat weirded out by how close they looked to fried chicken, since I was expecting something closer to fish and chips.
Like Vegan Dad, I'd never actually had a chili dog, but when I saw his, I HAD to have one. His of course
look perfect
but mine weren't so bad either. I made the buns from scratch earlier in the afternoon, using the really easy recipe found
here
. They weren't bad, but the shape threw me off a bit before eating. They're also pretty pale, which I found a bit unnerving, but I don't think the pre-meal steaming did much for their color..although it worked wonders on their consistency.
I made Vegan Dad's recipe verbatim, with a couple small changes do to pantry stockage. I didn't have any tomato paste, so I double the ketchup in the recipe and added some liquid smoke. I didn't have cocoa powder either, and instead chopped up half a bittersweet baking square, which gave the entire dish a slightly mole-like flavor. This was great, and I almost feel bad for the people out there eating "actual" chili dogs...they must be missing out.
Selah.