Matzo Ball Soup

Confessional time: I hate Passover, and that's mostly because I hate matzo. The lack of real carbs makes me feel sick, and all the fake ones in matzo and matzo products makes me feel constipated, but then you didn't need to know that. The one thing I do love about Passover (besides those kosher chocolate covered jelly rings—Vegan too I'm pretty certain!) is matzo ball soup, and I make it year round. It has to simmer for about 40 minutes, but you spend 35 of those doing whatever else you need to, so it's a great hands off dish when you don't have much time, like my schedule today.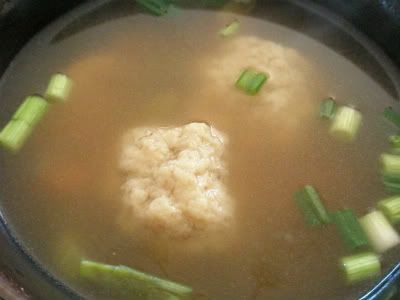 INGREDIENTS
¾ cup matzo meal
Approx. 3 tbs. vegetable oil
3 med. Eggs
2-3 tbs. water
Pinch Salt
6 cups vegetable stock
Couple Twigs fresh thyme
Grinds fresh pepper
Approx. ½ cup sliced carrots
2 celery stalks sliced
Instructions
1. Bring the stock to a boil over high heat. Add the fresh pepper to it at this time. While it is boiling, mix together the matzo meal through salt in a large bowl. Refrigerate for 15 minutes.
2. Slice the carrots and celery, and once the stock has come to a boil, add them along with the fresh thyme leaves.
3. Remove the matzo mix from the refrigerator, and form into ball slightly larger than walnuts. (in shell). Drop these into the broth, and allow to everything to simmer over medium heat for approx. 40 minutes.
4. You can add anything you want to this depending on mood. This time I added a handful of mushroom ten minutes before the end, and garnished with some green onion, but let your imagination run wild, that's the best part!

Selah.