Schnitzel and Fruit "cups"

Way back before I went Veggie, one of my favorite foods that my mother cooked was schnitzel...essentially chicken patties, breaded and then baked. That doesn't sound very exciting...but somehow, it IS. In Israel you can buy "vegetarian schnitzel" at every run of the mill grocery store, and it is generally full of corn or some other vegetable. That's great of its own accord, but it's nothing like the real thing, and I'd been craving it for years.
Fast forward a bit, and
melbedggood
posts her own veggie rendition, hooray!!!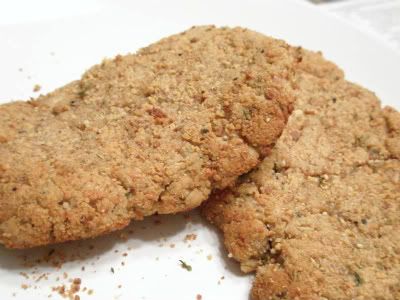 Now before you start saying "oh, well that doesn't look very exciting", BITE YOUR TONGUE!! These were so good, I was nearly in tears when I finished the two allotted to me, since the recipe only made four. I hate to shake my allegiance...but these could unseat V'con's chickpea cutlets as my favorite "faux meat" entree.
I did have some timing and measurement issues, so I'll tell you all what I changed from the original. (I'm not putting it all here, since I gave you all the link to the original, and you should check out melbedggoods blog anyway!
The original measurements left me with a very watery end product, and to fix that I ended up quadrupling the vital wheat gluten called for. I also replaced the chicken salt with a .5 serving of garlic salt. I skipped out on the parm in the breading, and mixed nooch (nutritional yeast) into the breadcrumbs instead. As far as the oven baking goes, I checked out the patties after 7 minutes at 375F and they weren't even close. I turned the temp. up to 400F, and gave the first side another ten minutes. The second side got exactly ten, and these were cooked to perfection. An hour later, and all I can think about is when I'm making more...
I never learn that I should stick to food and stay away from desert...and I had some filo dough that had outstayed its welcome and was already beginning to dry and crack at the edges. I used my muffin tin to create little filo cups, which I then brushed with some soy milk. To fill, I sliced up some fresh strawberries, and mixed those with some frozen mango chunks, a sprinkling of raw sugar, lemon juice, and a shot glass of water. This all simmered for about five minutes, and was then poured into the "cups". I baked it at 400F for about ten minutes, and removed everything when the visible part of the cups was golden brown and flaky. Problem being, the fruit mixture completely soaked through the bottom half of the filo, making the cup bottoms soggy and prone to tearing.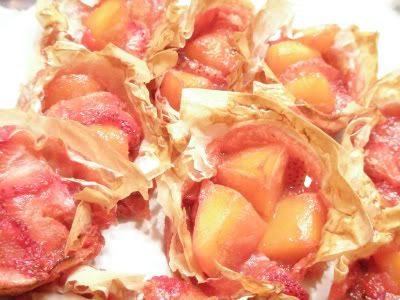 regardless of their bottoms (or lack thereof) the fruit inside these was amazing, and the filo that did crisp up was a great contrast. I'm just wondering if anyone knows the trick to protecting the filo...baking it alone first, perhaps?
Selah.