Linguine and Beanballs

I'd been eyeing this recipe in V'con for awhile, but was a little scared about making it. I'm sorry, but "beanballs" just does not sound very appetizing to me, not something that makes my mouth water in the grand scheme of food-dom. I was wrong about these…wrong, wrong, wrong. Would I rename them? Probably, although I'm not sure to what. The one thing I can attest, is that they are VERY good.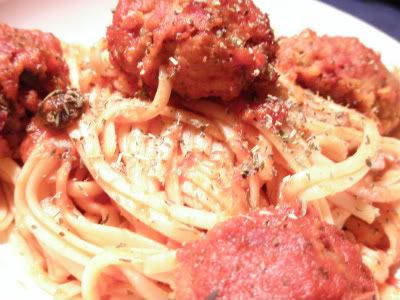 I chose to go with the oven-baked method, since I've been trying to save a bit on fat lately…not to mention that we need more olive oil, and I'll be picking up ANOTHER huge bottle at BJs tomorrow. These stayed pretty soft, so unless you're trying to make a Bolognese sauce (not necessarily a bad thing) you'll want to add the beanballs on top of your serving, not try to mix them into the pot. The taste on these was spot on, and with some time to cool, I noticed that the texture also firms up a bit. I used enriched durum wheat linguine instead of spaghetti because I like a more hearty pasta. For the sauce I decided to finish off some prepared mushroom marinara from Prego, and simmered it with sliced black olives, chili flakes, and about half a cup of merlot.
This is an awesome comfort food, and with the kidney beans and vital wheat gluten in the beanballs, there's plenty of protein going on. Wheat pasta elevates it another step, and oven-baking makes it very low fat. My only complaint is that I don't have a sub-roll on hand to make a beanball sub with the leftovers….good thing there's still pasta.
Selah.