Paella

This was definitely an "everything but the kitchen sink" type dish, inspired by a paella I saw Curtis Stone make on Take Home Chef this afternoon (I admit to watching way too much television) and a need to finish off a bunch of things in the fridge that didn't add up to any more specific recipes.
I'd been making saffron rice forever, and never realized I could call it paella until I heard the term on an episode of Weeds a couple years ago, and googled the dish. That was all it took...I could make saffron rice, dump a bunch of leftover veggies into it, and call the dish something fancy and gourmet sounding, who knew?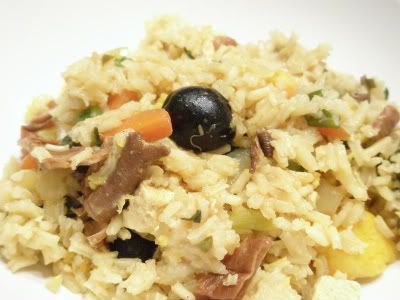 This was a much brighter yellow then it appears in the picture, I'm not quite sure what happened with the lighting there.

Ingredients
2 cups rice
4 cups vegetable broth
1/2 cup white wine (I used Sauvignon Blanc)
1 large onion, minced
3 cloves garlic
bunch fresh spinach, chopped
1 cup chopped cauliflower (the last of my yellow head)
half jar whole black olives
1 cup julienned baby carrots
3 tbs. capers; chopped
half block frozen and defrosted tofu
1 cup re-hydrated oyster mushrooms
1/2 cup frozen peas
2 stalks green onion, sliced
3 tbsp. olive oil
2 tbsp. saffron powder
Generous grind pepper
Generous splash hot chili sauce.

Directions
1. Preheat oven to 400F. Boil some water in a tea kettle to re-constitute the mushrooms, and heat the vegetable broth. Set a wok or paella pan on med/hi heat, and pour the olive oil in the bottom.
2. Add minced onion and garlic to the pan, and stir until translucent. Add the saffron powder, pepper, and all ingredients from spinach to peas, along with the rice. Add the wine, and stir until the rice smells a little toasty.
3. Add the vegetable broth one cup at a time, allowing everything to simmer for approximately ten minutes. Add the chili sauce, and stir together.
4. Put the entire pan in the oven, and cook at 400F for 20 minutes. Once the paella comes out, stir in the green onion, and serve!

If you're not into spice, eliminate the chili sauce, we like everything with a kick around here, but asian chili sauce isn't exactly a traditional paella ingredient.
Selah.