Vietnamese Spring Rolls w/Dipping Sauce

I was craving the chili-cherry dipping sauce in the fridge, and rather than eat it straight with a spoon, I made some simple spring rolls to back it up. The inside of these consisted of julienned carrots, red bell pepper, onion, jalapeno, rice noodles, green onion, and some grated frozen then defrosted tofu. I stir fried all of that with some peanut oil and five spice powder, and then commenced to make the rolls.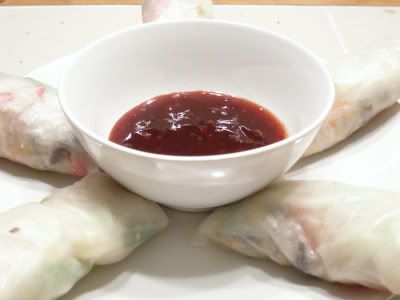 These were very simple...after all, the whole affair was an excuse to eat copious amounts of the cherry dipping sauce. Unfortunately, with all the veggies and noodles I ended up with about 15 of these, and I've learned the hard way they don't make great leftovers...here's hoping I'm really hungry again in about 15 minutes.
Selah.