Potato Gnocchi
This one isn't Vegan, and while I know you CAN make vegan gnocchi, I've never done it before, and everything I read said if you want to eliminate eggs, to use them the first time, halve them the second time, etc, to make sure you've got the hang of it before going completely without. Considering this was my first attempt at gnocchi, I think it came out pretty well, although I wish I'd had more than 4 small potatoes to work with.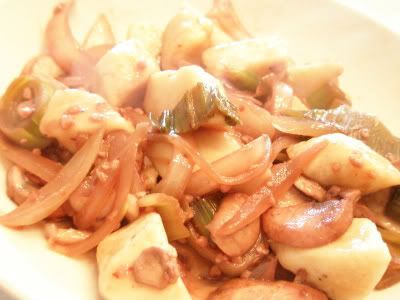 Gnocchi Ingredients
4 potatoes
Approx. 2 cups cake flour (it's lighter than normal)
Pepper
Sprinkle Parmesan
1 egg

Directions
1. Peel and cube potatoes; cover with water in a med. Pot and boil until soft, then mash.
2. Add in the remainder of the ingredients, and then mix until it forms a single mass, at which point you can knead by hand. You don't want this to be sticky, but it shouldn't be so dry it flakes either.
3. Form the dough into uniform tubes about 3/4 of an inch thick, and then cut into small "nuggets".
4. Drop the gnocchi into boiling water, and once they rise to the surface and float for about a minute, pull them out with a mesh strainer.

While the gnocchi was good, the "sauce" was the real star of this dish, although it's so hearty, I'd hardly just call it a sauce.

Ingredients
Heaping tbs. minced garlic
Whole onion, halved and then sliced the long way.
1 leek, chopped into rounds
2 cups button mushrooms
½ cup dry white wine
½ cup dry red wine
2 Tbs. earth balance
Salt and pepper

Directions
1. Melt the EB in a large skillet over medium heat, and add garlic and leek, as these will take longest to cook.
2. Add the onion, mushrooms, salt and pepper, and allow everything to cook for a couple minutes until onions are translucent.
3. Add both wines to the sauce, and allow to reduce for approximately ten minutes…adding salt and pepper to taste.
4. Drop the cooked gnocchi into the sauce, and stir to coat.
5. Serve!
You can replace the EB with Olive oil, I just find that it adds a creamy element to the sauce which is nice with all the wine. Now that I've got my first attempt under my belt, I'm looking forward to trying an egg (and parmesan) free version, pesto gnocchi, and even other vegetables, like sweet potatoes.
Selah.