Cranberry Cabbage and Poached Eggplant with Korean Hot Sauce
I always want to cook exciting ethnic food that neither looks nor tastes like anything I've ever had before, the only problem, is that sometimes it doesn't taste nearly as exciting as it sounds. None of the food tonight was bad, but it wasn't earth shattering either. To be perfectly honest, it was a bit bland and unexciting, and since there was no protein, I felt full temporarily, but an hour later I was starving. I've been thinking I want some real classic American comfort food…too bad that tends to also mean "full of fat food"…I shall have to be creative. Come to think of it…some spaghetti and beanballs with homemade marinara sounds good right about now…with whole wheat spaghetti I could even call it healthy.
Back on topic, I tried out a couple new recipes tonight, from
World Vegetarian
since that's been my cookbook of the week. The first was purple cabbage in cranberry juice. This starts out in a large pot, and then is moved to a covered casserole dish so it can hang out in the oven for an hour and a quarter and really cook down and sweeten up.
There was absolutely no way of making this photogenic, but I did what I could…it still looks a lot like purple worms. The fennel was the real standout of this recipe…it reminded me a lot of oven-roasted vegetables…but cabbage and kind of fruity. While it has the cooking time of an entrée, this really is just a side dish. It's pretty mild over-all, and while one serving is good, you wouldn't want a ton of it at a time. I feel like it would make a great addition to a tapas meal of humus, olives, and various picked vegetables and salads. I could totally see stuffing it in a pita with falafel…you just wouldn't want a full plate of it.
I also made a dish the book called "Poached Eggplant with Korean Hot Sauce". The eggplant wasn't poached so much as it was boiled, and the Korean "hot sauce" wasn't remotely hot, even
after
we nearly doubled the amount of cayenne called for. This actually reminded me a lot of hoisen sauce, although there was none in the recipe. I felt very much as though I was eating a blander version of moo shoo pancakes.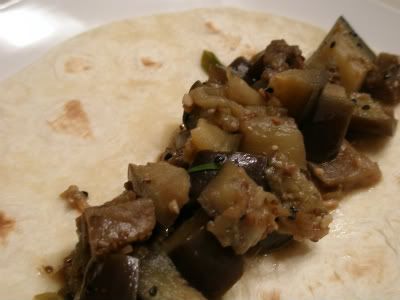 We wrapped this up in tortillas that were hanging out in the back of the fridge, and I think I may have the leftovers in a whole wheat pita tomorrow…with the addition of some of my home made zhug (Israeli hot sauce) so the kick it was SUPPOSED to have is actually present. Who knows…I may decide to be a rebel and stuff some of the leftover cabbage in there with it.
Selah.