Tempeh Bacon
As promised, I have the tempeh bacon from VwaV...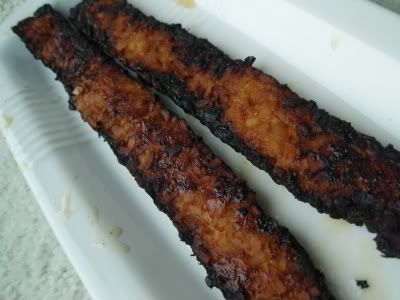 This was REALLY good...chalk it up on the slowly growing list of tempeh foods that I actually enjoy. It's no bourbon glazed meatloaf...but it's awful close. I think the trick to this is to burn it...mine was literally black on the bottom, but it tasted great..and smelled frighteningly like real bacon...I was almost scared to eat it lest it had morphed into a pig at some point in the cooking process.
I also attempted the TVP burgers from VwaV today, but that was such a failure I can't even take a picture. They smelled great...but didn't hold together AT ALL in the grilling process. Now I need to come up with some recipes to stuff flavored TVP into...
Did anyone have luck with that recipe who'd like to share their secrets?
Selah.