Strawberry Macadamia Nut Muffins
This was my first attempt at making up my own baking recipe, since I'm normally terrified of messing with anything that's supposed to rise. All things considered, this went really well, and while I think I need to tweak things a bit, these will be polished off without any issues.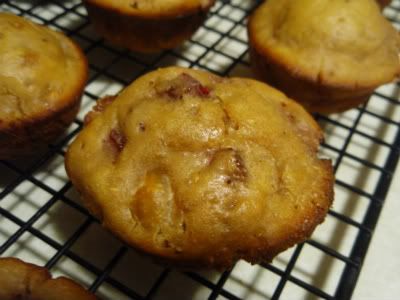 I got the idea for these last week when I asked my friend what kind of muffin she'd make if she could do anything, and she responded "how come no one ever makes strawberry muffins? Do that." So I set about coming up with a strawberry muffin recipe. The cool thing about this is that the strawberries basically turn into jam during the cooking process, totally pumping up the inside of the treats. the only real issue I had with these was that they were a bit chewy, and if anyone's got recommendations on what causes that, I'd love to hear them. The flavor was spot on...

Ingredients
1/4 cup canola oil
1 cup non-sweetened vanilla hemp milk
1 tsp. salt
2 tsp. baking powder
1/2 cup turbinado sugar
1/4 cup brown sugar
1.5 cups unbleached white flour
1 cup minced strawberries
1 tsp vanilla extract
1 tsp orange zest
10-12 macademia nuts halved
1 tbsp. ground flax seeds
3 tbsp. water

Directions
1. Combine the flax and water in a small bowl and whip until it starts to emulate the consistency of egg whites.
2. Combine all the dry ingredients in a large bowl, and then add flax mixture and all other wet ingredients. Stir well.
3. Preheat your oven to 375F. Grease a muffin tin and pour in batter. These don't do a ton of rising, so you can fill the tins without worry.
4. Bake for 25 minutes, or until a toothpick comes out clean. Allow to cool ten minutes, if you can wait that long...

I'm beyond excited to have my oven back, and you can expect more exciting oven creations in the near future.
Selah.