Wakame Soba Noodle Soup and a TLT
I was trying to decide how to stick to one ethnicity/food style for dinner tonight....and somehow we ended up having TLTs (tempeh, lettuce, tomato) and a wakame-soba noodle soup.
The soup was a recipe from
Vegetarian Planet
and it was ok. Just ok. I do like the wakame, which I'm used to from the miso soup at my favorite sushi joint (their sweet potato maki is to DIE FOR...and the mango/avocado roll with peanut isn't shabby either) but have never actually bought on its own before. Other than that, there was nothing special about this soup....it was mild, fairly bland, and the sliced ginger didn't do much to flavor the broth at all.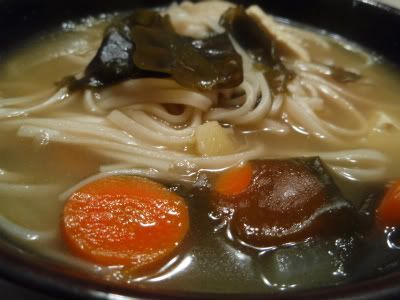 It looks pretty,and it was warm and filling, which is always good on a winter night, I just don't think I'll remember much about it two night from now. I could try doubling the miso in the broth and making it into more of a hearty miso soup, but short of that, it doesn't show a ton of promise.
The TLTs on the other hand were DELICIOUS. I've never had an actual BLT, since with the whole kosher thing, bacon was never one of my food groups even before I went veggie. I never really got the excitement surrounding some crunchy strips with lettuce and tomato, but I TOTALLY get it now.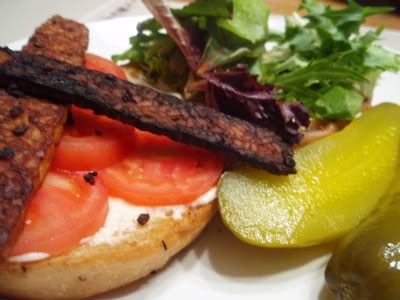 I made the tempeh bacon from VwaV again, which is quite possibly becoming one of my favorite foods. I also toasted up the bread in the remaining peanut oil from the tempeh, which totally brought it up a notch. The bread was spread liberally with nayo, and then topped with sliced tomatoes and some spring mix. I could've had FOUR of these. I am definitely now a TLT addict.
Selah.