Banana-Orange Oatmeal Pancakes
I love waking up on a sunday morning and having plenty of time to shuffle around in my pjs and come up with something delicious for breakfast, there's just nothing I find more relaxing. Better yet, my sister and her guy were here this weekend, and unbeknown to the happy omnivores, I fed them Vegan pancakes, and they loved them. Score.
Second most exciting thing about these pancakes? I came up with the recipe myself, so I can share.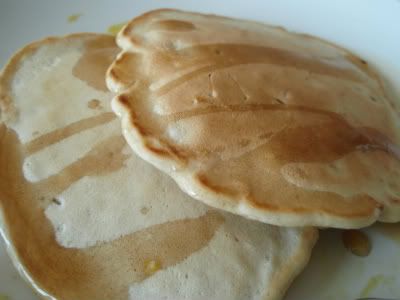 Banana-Orange Oatmeal Pancakes

Ingredients
3 cups unbleached flour
1 tsp. salt
3 tbsp. baking powder
1/3 cup oatmeal
1.5 cups unsweetened vanilla hemp milk
3 tbsp. maple syrup
2 tbsp. canola
1 banana. minced
1 tbsp. vanilla extract
2 tbsp. orange zest
1 tsp. cinnamon
water

Directions
1. Mix together all ingredients except water, then add water slowly until batter looks the right consistency. I added about a cup. Most cookbooks would have you think you need to mix together dry and wet ingredients in separate bowls before combining, but I never have...and I've never had an issue. Just do the dry stuff first, mix, and then start adding the rest.

2. Heat a griddle over med/high heat, spray with Pam or equivalent, and use a ladle to drop the batter, cooking approx. 2-3 minutes per side.

3. Drown in maple syrup, and enjoy!
I was hoping the oatmeal would give them a crunch, which totally didn't happen, but the nutritional content certainly didn't hurt.
Selah.