Kale Alfredo
I'm always trying to think up new ways to serve Kale, since it's such an amazing vegetable, but can be a bit much cooked up and served alone. This one came to me a couple nights ago when I was having trouble falling asleep, and I was very happy with the result. although it didn't go entirely as planned.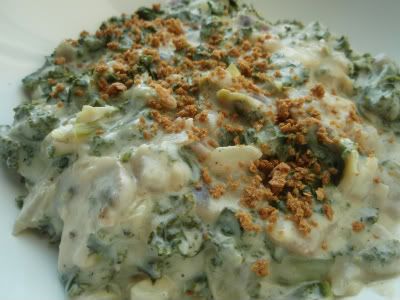 I rinsed the kale leaves, and then attempted to slice them into long spaghetti-like strips, which didn't really work out, but that's fine. The kale then went into a pot of boiling water, where I allowed it cook down for 25 minutes or so. In the meantime, I prepared Vegan Dad's Roasted Garlic Alfredo sauce, replacing the soymilk with hemp, since that's all I have this week. I also added a bunch of sliced mushrooms to the recipe instead of green pepper, since I felt that would go better with the kale.
As it turns out, the hemp milk made it even creamier then it would've been with straight up soymilk, and the whole recipe is delicious. If anything, I wish I had a bigger bulb of garlic to make the sauce even more garlicky, but that isn't a huge deal.
I topped my serving with Bac-Uns (as I would any good white pasta dish) and commenced to enjoy for lunch. I couldn't eat a ton of this stuff at a time, since any creamy food tends to fill me up really fast, but I can definitely do a servings worth...often.
Selah.