Asian Noodle Soup with Bok Choy and Shitake Mushrooms, Bok Choy, Edamame, Cashew and Orange Rice, and Cold Asparagus with Korean Sauce
You know what's really annoying? Cookbooks that feel the need to name every recipe after ALL of its ingredients, so that my blog title is about three feet long. Obviously they were thinking of what this would do to me when they published the cookbook...and I DON'T appreciate the sentiment.
But all that aside, this dinner was the tale of two YUMS and an "eh". Interestingly enough, the best looking dish of the bunch gave us the "eh". That would be the rice, pictured here: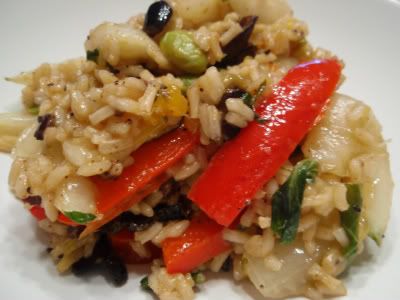 Along with the forthcoming soup, this recipe came from
Vegan Express
, the new cookbook by Nava Atlas. It came to me via the "new releases" shelf at the library...what can I say, I'm drawn to anything that start with "veg". The rice looked really pretty, and was even fun to make, but it tasted very average, middle-of-the-road, boring...and I wouldn't bother with doing it again. Admittedly I burned the cashews, but that was still one of the more flavorful parts of the dish.
The soup didn't look as pretty, but it tasted awesome. Umami is the word I believe. (Always wanted to use that in a sentence, SCORE). I'm pretty sure the success of this dish lies in my overdoing the shoyu, but I can remember to do that again in the future. This also called for Udon noodles, but I replaced them with soba, because frankly, udon reminds me of large worms.
By tomorrow I'll be able to eat the leftovers with chopsticks...the one downside to putting soba in soup is that it soaks up liquid like a shammy. (Anyone else a huge Vince with Shamwow fan?). Wow, I have some serious blogging ADD today.
Last but not least, was the Asparagus in Korean Sauce, which was a recipe from Madhur Jaffrey's
World Vegetarian
. This was REALLY exciting, not just because the sauce is delicious (it is) but because the asparagus we bought this week was so damn awesome.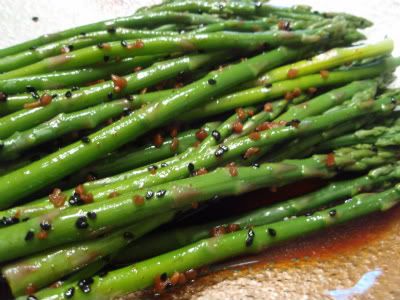 These asparagus were long, slender, crisp, and bright green. I blanched them for exactly two minutes, then drained and ran them under cold water to stop the cooking process. If the asparagus continue to look like this, I'll be eating them pretty much continuously for the next few weeks, and you can expect a lot more asparagus recipes coming to a blog near you...
Selah.