Sesame Aspargus and an Old Favorite Improved
I made a green salad with the homemade miso dressing from
Vegetarian Planet
as well, but it isn't pictured.
I said there would be more asparagus if they continued to look so delicious, and here it is:
This is the sesame asparagus recipe from VwaV, which is really simple, but good. I've never had an issue with Asparagus and soy sauce to date, and I was pretty happy with this. I managed to undercook the asparagus a BIT, so that the thicker fronds had a little more crunch then I like, but they were still very yummy.
The entree of tonight's meal was the
Lychee Seitan
I came up with awhile ago, but with the additions of some sliced red bell and carrots.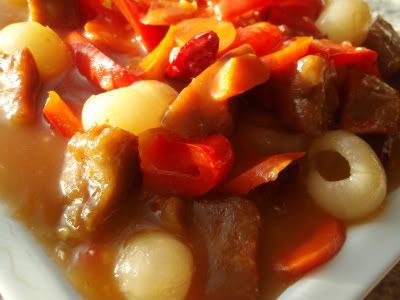 Not only did this photograph beautifully, but it tasted great too...I think I'm just obsessed with lychees. They're so damn good.
Selah.