New favorite snack?
I felt the need to buy a plantain the other day...because they were calling to me while I picked up bananas for my smoothie addiction...and they were cheap. There is of course the small detail that I've never bought a plantain in my life, never mind cooked one. But I decided I was up for the challenge.
I was thinking I'd end up with a savory side dish to balance out my dinner...but it didn't work exactly as planned. I'm pretty sure my plantain could have stood another week to ripen in the fruit basket for starters. I decided to keep things simple, and fry up slices of plantain with some olive oil, salt and pepper.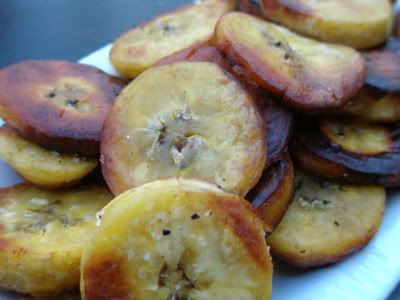 The end result reminded me a lot of dried banana chips, which isn't bad...I like those. These were very snacky, and went great with some evening activities...the salt was pretty key. Next time I'll probably let it ripen a little longer, and try working some sort of glaze into the skillet.
Selah.