Some Asian Flair
I'd been thinking about Thom Kha Gai for awhile...which is interesting, considering I've never so much as tasted it. My boyfriend's mother ordered it when we went out for Thai before his graduation in May though, and it looked and smelled great. (although that version wasn't veggie) Add to that his statement that it's one of his favorites, and I was on a mission.
One thing I learned, was that the "gai" in the name means chicken. Therefore, the dish has hereby been renamed 'Thom Kha Tofu". When I served it up, sans chicken...he informed me it was a more than passable rendition, and while I can't compare it to the original I've never had...it was damn good soup.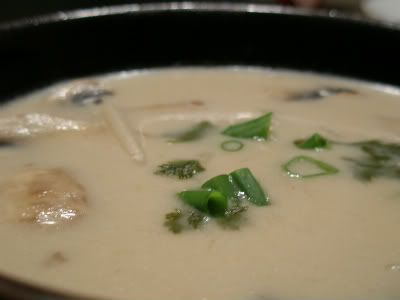 I got my basic recipe from
Rodney B. over at Recipezaar
and omitted/altered a couple ingredients to make it veggie/vegan friendly. (That's right, this soup is 100% vegan, and creamy beyond your wildest dreams.)
The recipe I used is here:
Thom Kha Tofu

Ingredients
1 (13 1/2 ounce) can coconut milk
Generous squeeze lemongrass (I buy it in a tube)
3 tablespoons tamari
1 tablespoon white wine vinegar
zest of two limes
juice of two limes
2 chopped Serrano chilies, seeds intact
2 tablespoons fresh ginger, julienned in fine,short 1/4 inch strips
2 tablespoons minced garlic
2 tablespoons brown sugar
half block extra firm, cubed tofu
8 ounces button mushrooms, sliced
6 ounces chinese rice noodles, presoaked in hot water
1 cup fresh cilantro, chopped (leave the stems in!)
Directions
In 4qt or larger, heavy-bottomed pot, begin heating vegetable broth and coconut milk on low-medium heat.
Add the other ingredients for the broth, down through the brown sugar, as you prepare them.
Bring broth to a slow simmer; never allow it to reach a rolling boil, and do not cover it at any time during cooking.
When broth is simmering, begin adding remaining ingredients starting with the tofu, as you prepare them in the order listed, stirring regularly.
Add the cilantro

About a minute after adding the cilantro, taste the soup and add some additional lime juice as desired to punch up the flavor (maybe 1-2 T--don't overdo it!).
Enjoy the heck out of it!
This is a pretty intense soup, but to round out the meal a little, we also made some of the Asian marinated tofu from V'con. I didn't bother with their detailed instructions for perfect grill marks, but rather cut the block into small triangles, and marinated and cooked it that way.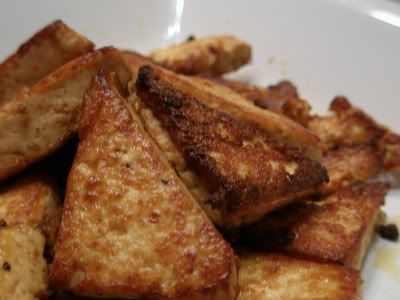 My other half did a great job pressing these down as they grilled, so they were perfectly crispy on the outside, and had a toothsome chewy texture on the inside. I love traveling the world by cooking.
Selah.