Carrot Salad and Vietnamese Spring Rolls
I'm continuing with my "summer food" theme, which basically means that I only make things that can be eaten cold...unfortunately that does not necessarily mean that they don't require cooking at some point.
First off is a salad that I stole from Rachael Ray...sort of. I saw her make it a long time ago on 30 minute meals, and I can't seem to find it ANYWHERE on the food
network website, so perhaps I'm imagining things. At any rate, I doubt my version is anywhere near an exact replica of hers, so I don't feel bad giving you all the directions.
For starters, it definitely looks good: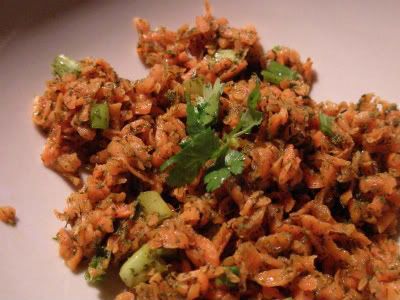 The recipe is as follows
Ingredients
2 cups carrots, shredded
Generous splash lemon juice
palmful dried dill (I'm sure fresh would be even better)
2 scallions, sliced
Pepper and Garlic salt

Instructions
1.Grate the carrots using a box hole grater, and put in a serving bowl
2.Add the lemon juice, herbs and spices. Serve!
Next I made some vietnamese spring rolls, which is something I do fairly often. There's just something so cool about being able to see the contents through the wrappers...it reminds me of those gloriously tacky phones I always wanted as a kid...the ones made of clear plastic so you could see all the cheap wires and unnecessary colored parts inside...Sadly my parents wouldn't let me have my own phone...never mind a see-through one.
I change these up everytime I make them, depending on what I have available at the time. Unfortunately I did not have a protein last night, since we were waiting to go grocery shopping today. I did however have some rice noodles and a few vegetables on hand. I made my own dipping sauce as well, which was pretty good, and had a SERIOUS tang to it.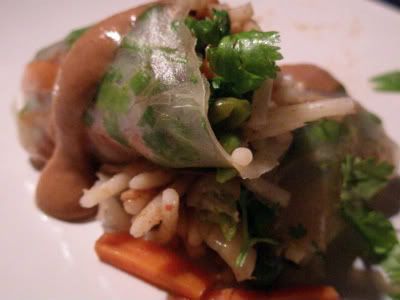 Ingredients
Rolls
1 pkg. Vietnamese Spring Rolls
1 pkg. rice noodles
handful carrots, julienned
few leaves napa cabbage, sliced
Peas
1 tbsp. garlic
Cilantro
Green Onion
5 spice powder
Red Chili Paste
2 tbsp. peanut oil

Sauce
1/4 cup tamarind concentrate
1/4 cup natural peanut butter
1 tsp. lime juice
1 tbsp. natural cane sugar

Instructions
1. Boil a pot of water for the noodles and cook according to pkg. directions.
2. Heat the peanut oil in a large skillet. Add cabbage, peas, carrots, garlic, five spice powder, and chili paste. Cook until cabbage is wilted, and everything else should be done.
3. Remove noodles, drain, and rinse in cold water.
4. Dip spring roll wrappers in hot water to soften. Pile some rice noodles, skillet ingredients, cilantro and chopped green onion in each, then roll. You want to give them a little LESS stuffing than you think you need. Trust me.

Dipping Sauce
1. Mix all the ingredients together, adding some water if needed to thin. That's it!!!
Selah.