Orange Glazed Scones and Mashed Potatoes with Punk Rock Chickpea Gravy
So today was a VwaV day, and OMFG did it make up for the TVP burger disaster. Breakfast was a combination of the leftover tempeh bacon from yesterday (my omni friend who'd never heard of tempeh before this morning even liked it!) and the orange glazed scones (also from VwaV).
The scones were ridiculously easy, and I didn't even measure things! For me to not screw up baking something, is always a big deal...and proves that the recipe really IS idiot proof.
Dinner featured some mashed potatoes with the Punk Rock Chickpea gravy from VwaV, and WOW.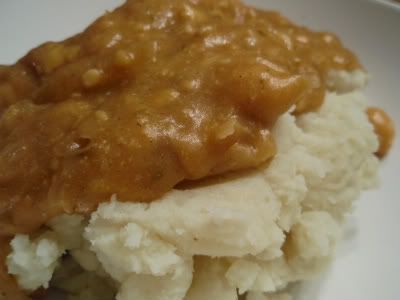 Just WOW. I want to eat this stuff everyday, for the rest of my life, on EVERYTHING. PERIOD. It may not be the greatest looker, but boy does it make up for it! Everything Isa says about this recipe in the introduction to it is true, and if you own the cookbook and haven't made it yet, DO IT, NOW. OH MY CHICKPEA GRAVY.
ooooh...and a white russian with kahluah, coffee flavored vodka, and soymilk...YUM. I am NEVER going to fall asleep tonight.
Selah.