Sloppy Joes
I did it. I saved the "veggie burgers" from Vwav, and they were absolutely delicious. I'd been wanting to try out a sloppy joe tvp rendition for awhile now, and although I've never even had the original version, when it occurred to me that I could try it with the failed burgers, I was quickly off and running.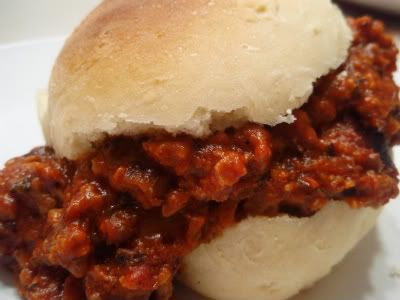 Since we didn't have any buns, I started with those, using the recipe found
here
and replacing the white sugar with raw, the margarine with canola oil, and the milk with soymilk. None of that seemed to matter, because these still came out perfect. The only (huge) hitch, was that after they'd been formed and risen, I discovered that the oven hadn't been preheating. I tried again...no luck...tried with the door open...nothing. It would appear the pilot light is out. And since it was after 4 pm on a Saturday and Monday is a holiday...I probably won't have use of an oven until at least Tuesday. Go figure. Instead I made the buns three at a time in the toaster oven....which worked, but took forever.
To make the sloppy joes, I dumped all the "burgers" into a deep skillet, and broke up the few that held some shape with a wooden spoon. I added a large jar of tomato puree, a generous squeeze of ketchup, spicy brown mustard, maple syrup, liquid smoke, and bac-uns. I mixed and then let it all simmer on medium-low for about 15 minutes. Perfect, and VERY messy. Who knew those TVP burgers would make such great sloppy joes?
Selah.