Asian Quinoa Pilaf and Sugared Basil
I wanted to make this recipe for "lemongrass quinoa pilaf" that was in
Vegetarian Planet
, but as it turns out, I couldn't find lemongrass ANYWHERE this week. If worst comes to worst, Shaws normally has it in a tube...but they were completely out as well, go figure. Who needs parsley in a tube?
Since I had to be creative, I replaced the lemongrass with a combination of tamari, sherry, and lime juice. Everything else in the recipe remained the same.
The dish was very simple, and quite delicious. I had quinoa for the first time less than a year ago, and I still can't get over how friggin DELICIOUS it is...never mind how good FOR you! Why quinoa isn't more mainstream I'll never know...perhaps I'll make bringing it out into the mainstream my life's ambition, why should rice get all the love?
The second component of this meal was an idea that I would NEVER, in a MILLION YEARS, have come up with on my own. This was another recipe from
The Olive and the Caper
and darn those crazy Greeks, they decided to go off and sugar basil leaves.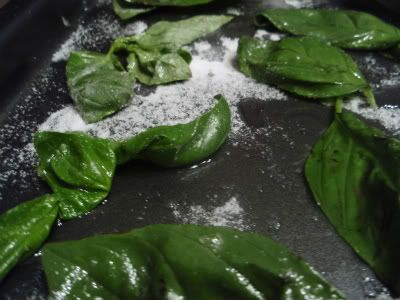 Who DOES THAT? ME. That's who. Not only are these delicious, but something tells me they'll make awesome garnishes for some of my new years eve drinks as well.
The basic idea here is that you brush the leaves with anything moist (the recipe suggests egg whites, but soy milk works just fine) and then sprinkle sugar on both sides. Afterward they go somewhere "airy" for a couple hours to dry out and turn crispy, and OH BOY are they good. Basil for desert...who knew.
Selah.