lychee seitan and a sugar snap stir-fry

I remember when I was a kid, there was this fairly classy chinese sit down restaurant my family would go to from time to time. We always got the moo shoo pancakes (which I've already done a veggie version of) and another dish we often ordered was the lychee chicken. I actually haven't had lychee chicken in years...the last time we went to that restaurant I was barely in middle school, and your average take-out menu doesn't have any lychee dishes on it, not to mention the fact they'd have to do a lychee tofu for me to order it...
The time had come: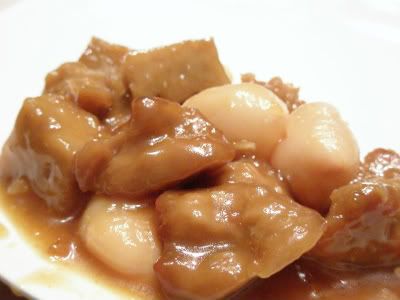 The lychee chicken I remember had an orangey sauce on it, and I wasn't able to re-create that color, but from what I remember, the flavor here was spot on, so I'm rather proud.

Ingredients
About 2 cups simple seitan, cut into chunks
Corn Starch
2 tbs. brown sugar
15 ounce can lychees (you need canned, in juice, for this)
4-5 dried red chilis
1/2 cup pulp free OJ
2 tbs. minced ginger
generous squirt hot chili sauce
Peanut Oil

Directions
1. Coat the bottom of a large skillet with peanut oil, and heat over med-high. In a small pot, combine the liquid from the can of lychee, the OJ, brown sugar, chilis, ginger, and chili sauce. Bring to a boil.
2. Toss the seitan chunks in corn starch to coat, and then add to the skillet. You want to keep an eye on these, tossing every so often to make sure they crisp up on all sides.
3. Once the sauce ingredients hit a boil, lower to simmer, and add a cornstarch slurry. Start with about a tablespoon's worth and add more as deemed necessary. Allow to thicken for about ten minutes.
4. Once the seitan is crisped on all sides, pour the sauce and the lychees in with it. Mix everything together and allow to simmer for another ten minutes or so before serving.

I backed this up with a very simple stir fry of celery and sugar snap peas. I started them off in some peanut oil with minced ginger and scallions, and seasoned with some cracked white pepper and gomasio...which if you haven't come across it, is essentially sesame seeds and salt.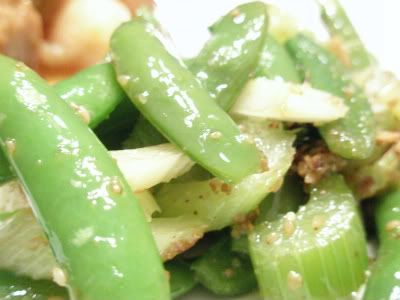 The entire time I was eating this meal I wanted it to come out of a card board carton...now I'm wondering where I can buy those, I'm sure they're available somewhere, and it would be so much fun to eat home made take out from cardboard with chopsticks....
Selah.