Seitan over Rice Noodles with Emeril's Asian BBQ Sauce and Sweet N' Sour Brussel Sprouts
Tonight's dinner was wholly inspired by the remaining contents of my kitchen the day before grocery shopping...and the food network website.
In honor of the newly returned year of the ox (my chinese zodiac!) I decided I wanted to do something with an Asian flair. I saw Emeril's recipe for
Asian Spicy Barbecue Chicken
, and the first thought I had was THAT WOULD BE PERFECT ON MY SEITAN! and so it was. The seitan got a dry rub of salt and five spice powder as Emeril had suggested, and while the sauce was simmering away, I got a sliced carrot and zucchini sauteing along with the seitan and some peanut oil in my wok. I added some rice noodles that had been soaking in cool water for a couple hours, and then the sauce.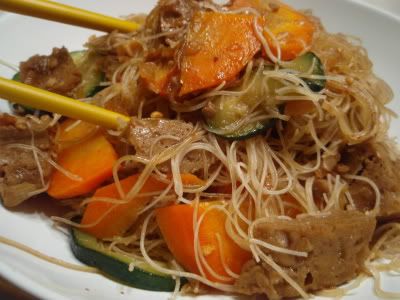 I ended up adding about a quarter cup of water so the noodles would soften the rest of the way, but in the future I'd just want to double the sauce. The flavoring on this was great, but it was a bit dry. Otherwise, two thumbs up, and I can't blame my lack of insight on Lagasse.
I also made Rachael Ray's
Sweet and Spicy Brussel Sprouts
I wasn't expecting these to be spicy, since there wasn't anything spicy in the ingredients. I was actually amused by the people complaining about the lack of spice in the comments...if you read the ingredient list I'm not sure what you were expecting! It's a strange name though. They are actually sweet and sour, which is a new flavor for me with Brussels sprouts. They taste a bit pickled...something that'll probably intensify by the time I go for the leftovers.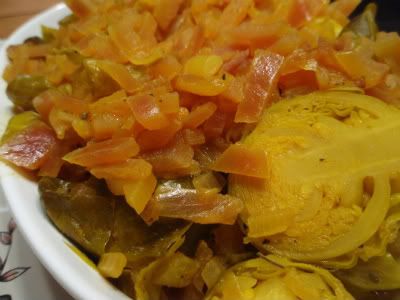 I wasn't a huge fan of these, but I'm not sure the recipe is so much to blame as the sheer number of brussells sprouts I've been eating lately...I think I'm getting a bit tired of them. I might wait a while before giving this another shot, it's a very novel idea, and I can appreciate that.
Selah.